July 16, 2018 – Minden, LA
MINDEN PRESS-HERALD, article by Caleb Daniel
Chris Opp transforms the J.L. Jones library with a brush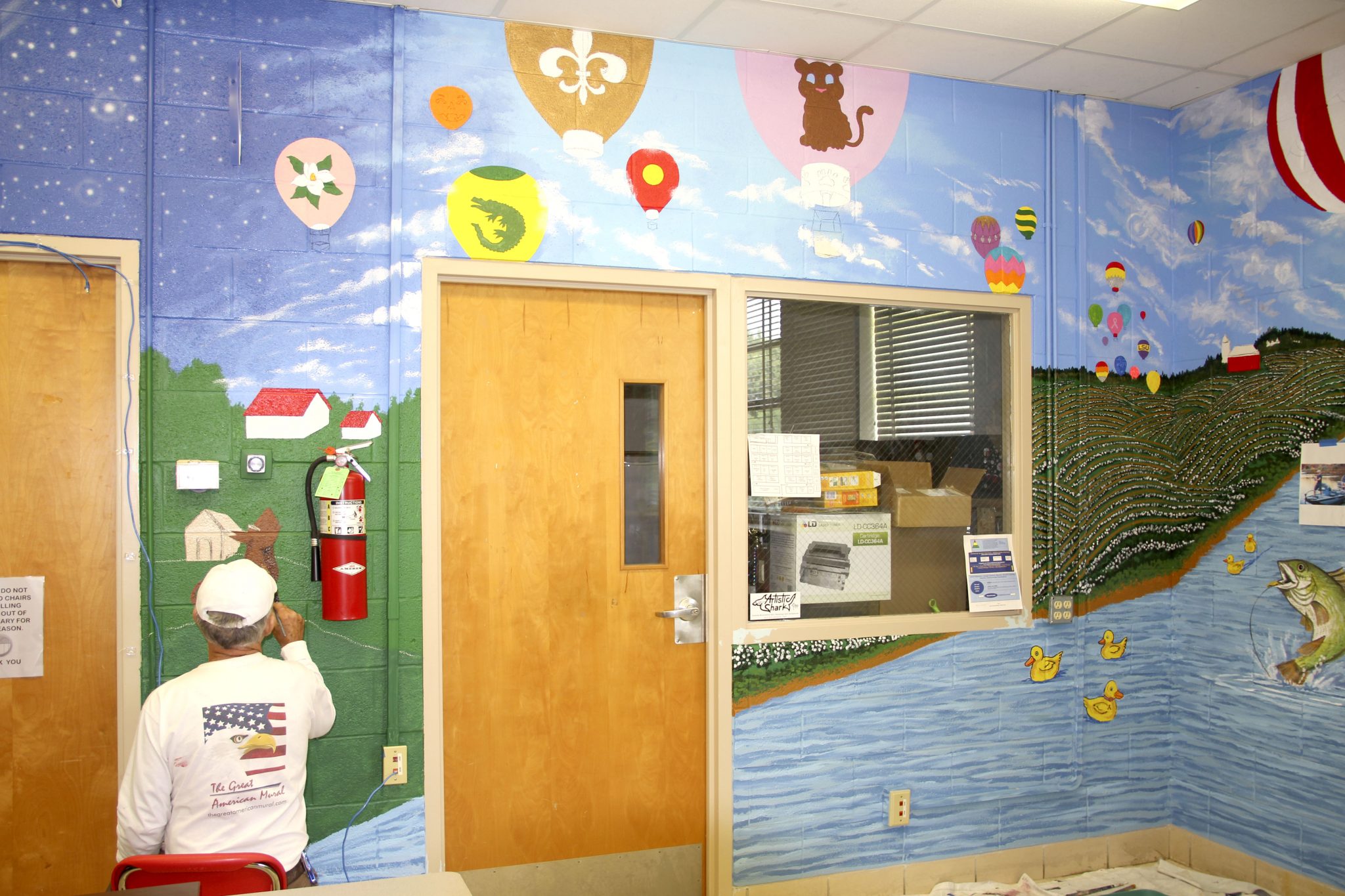 Students at J.L. Jones Elementary School will return this fall to find their library has become a vibrant Louisiana swamp, complete with wildlife and characters from popular children's literature. Former Jones Elementary Principal Michelle Finley said the idea to have the library painted with a swamp theme came from a trip to the Model Schools Conference in Nashville last summer. "Many teachers from Webster Parish went, including a big team from Jones," she said. "They got really excited about some ideas they had at the conference: ways to motivate kids, to make kids want to read and come to the library. Just to produce a fun environment and spruce up the place. It started with brainstorming at the conference lunch table and turned into a year-long project of finding the artist, getting a quote, finding donors, and getting it done."
To accomplish this task, the school turned to Chris Opp, a mural artist originally from California who has been adding color to the region since the late '90s. Painting the Jones Elementary library was Opp's 26th project at a school. "It's all about the kids for me," he said. "It's all about teaching kids that you have a gift, you just have to find it. Whether it's being a teacher, photographer, doctor, or whatever. I have a gift of doing what I do, and I'm very good at it." Opp, who recently branded himself the Artistic Shark, said he can hardly remember a time before he was making art professionally. He has been featured on KTBS several times for some of his bigger projects, such as the fish on the outside of the Shreveport Aquarium and the Great American Mural in Waskom, Texas. Over more than four weeks this summer, Opp brought the Jones faculty's concept to life, painting a vivid swamp across the walls of the library and filling it with engaging creatures one might find in such a habitat. Additionally, he decorated the sides of the bookshelves to look like spines of several of the required reading books.
Jennifer Santelices, who taught in the third grade at Jones this past school year, was among the group who came up with the original idea. She said the swamp theme was intended to correspond with the third grade social studies curriculum. "The curriculum focuses on Louisiana history, so we thought this would be a great way to expose kids to Louisiana culture through art and literature," she said. "So we picked Louisiana texts to inspire the walls, Louisiana pictures, and the swamp scene, because that's what Louisiana is known for. When I picked the books and showed him the ideas for the swamp, he was able to incorporate our state mammals and birds for the swamp." As the project went on, it evolved to include more than any of them could have imagined. Finley said she was especially impressed with the idea of painting characters from children's books such as "Where the Wild Things Are" and several Dr. Seuss classics. "There's so much to look at, and that is stimulating in itself for the kids' brains," she said. "We didn't think about the book characters being incorporated – that was something Chris came up with. Incorporating the kid-friendly art into the swamp-themed mural came together so well." Finley will be moving to principal E.S. Richardson Elementary School for the upcoming year, and Jessica Spence will be taking the helm at Jones. Spence said her favorite feature of the artwork is the hidden images Opp said he always includes for the kids to find. "I'm very excited, and as he adds more of the details it gets better," Spence said. "I love seeing all the animals and things hidden in the clouds. It took me three or four times to notice some of them. I see something different every time I come in."
Opp, who usually works on his projects outside regardless of the weather, said the school library in the summer is a quiet break from the norm. Wherever his work takes him, he could not imagine doing anything else with his life. "Too many people go to work every day, and they don't like being there," he said. "I couldn't imagine being in front of a computer or on a phone all day long. My office is outside or in places like this." Opp said he wants his art to inspire students to find their own dream job like he did, whatever it may be. "I'm passing a brush on instead of a baton, letting kids know they can make a living enjoying what they do," he said. "I'm sixty-five years old and I've been doing this for forty some-odd years, so I must be doing something right. But it's not about the money, it's about the look of the kids' eyes as they come back to school. They're going to want to come here and spend more time here."
That desire to spend time in the library is at the core of the intent behind the project, according to Finley. "The bottom line is it's for the kids," she said. "We want them to be excited about it. We want them to have a place they feel comfortable, a place they want to read in. Reading excites – it's my favorite thing to do, and I want to share that passion with them." Jodie Martin with Geaux Fresh and Steve Koskie with Koskie CPA donated to help fund the library project, and Finley said it would not have been possible without their support.
At the end of the day, when all the paint has dried, Opp said his success will be measured by the joy the students receive from his work. "My art is like a pebble," he said. "I cast it across the water, and if you're on the other side and it causes you to think or smile about what I've done, then I've done my job as an artist."